What's the number one thing sellers should do if selling this spring?
Posted by Alice Cooper on Tuesday, April 25, 2023 at 9:25:52 AM
By Alice Cooper / April 25, 2023
Comment
Let's talk about selling your home this spring. Of course, you want to get your home market-ready by decluttering, depersonalizing & presenting your home in the best light possible, but there's one thing you should focus on if you do nothing else.
Over the last 12 months, the housing market has gone through significant changes. While we're still technically in a sellers' market, it's a much more neutral market than last spring. What do I mean by that? To give you an idea, this time last year, we had historically low inventory. The Daytona Beach MLS had fewer than 700 homes for sale on the market in April of 2022. There was a frenzy in the market; multiple buyers were putting offers in on homes the day they went on the market just at a shot of actually being able to buy that house. There were simply too many buyers and too few homes for sale, making it an extreme seller's market.
Today, the Daytona Beach MLS has almost 1700 homes on the market. While we're still not quite at what we would consider a normal inventory for a balanced market in our area- that would be closer to 2500 homes for sale- we're still in much better shape, inventory-wise, than the mere 700 homes to choose from last spring. So what does that mean for you as a seller?
It means that if you want your home to sell quickly, it's incredibly important to not overprice your home this spring. We're already seeing average days on the market climb to a moderate 30-60 days, compared to a year ago when we had something like 10 days on the market. As Realtor.com explains: "Move-in-ready homes with curb appeal and in desirable areas—and that are priced to sell—are especially likely to move quickly this spring."
So it may seem like common sense- don't overprice your home if you want it to sell- but have you thought about why it's important to price your home at market value and not to overprice or even under-price your home? Your asking price sends a message to potential buyers. Setting the price too low could mean leaving money on the table, but it could also put up a red flag to potential buyers that there's something wrong with the property if the price tag is lower than expected. We're still seeing storm-damaged homes hit the market, and they're usually priced accordingly, so buyers may get spooked if they see something that looks too good to be true.
If it's priced too high, you run the risk of deterring buyers completely. When that happens, you'll find out pretty quickly that you don't get any showings and you'll probably end up lowering the price. The problem with that is, you may end up chasing a shifting market. As more inventory becomes available, buyer demand will decrease and eventually, we're going to land back in a buyer's market, meaning buyers will once again have the advantage over sellers. If you're not priced right, unfortunately, your home won't sell.
To avoid either headache, it's important to price it right from the start. A real estate professional can help you find the ideal asking price for your home. They balance the value of homes in your neighborhood, current market trends, buyer demand, the condition of your house, and other factors to find the right price. This helps lead to stronger offers and a greater likelihood your house will sell quickly.
Here we see the comparison. An underpriced home loses value, decreases future buying power, and deters skeptical buyers. An overpriced home sits on the market longer, sends the wrong message to buyers with price drops, and prices out potential buyers. But a home priced right at market value you'll attract more buyers, and you'll end up with a higher sale price and a quicker sale.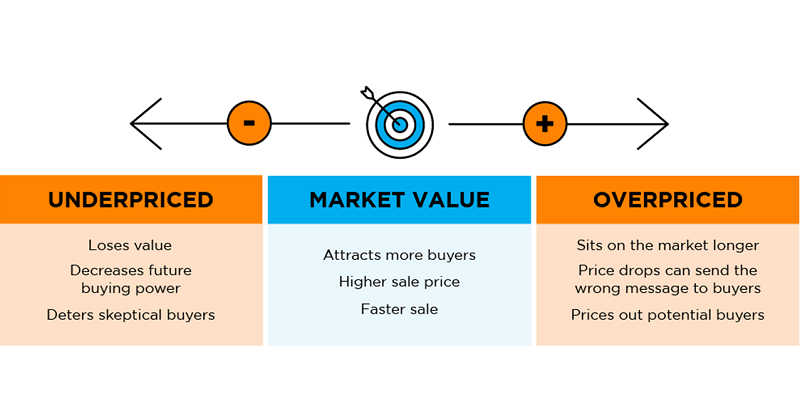 Bottom line, if you plan to sell this spring, it's time to get it out of your mind that you can sell at any price. That may have been true last spring, but our market is shifting, and you don't want to get caught holding the bag. Rely on your real estate professional to help you price your home correctly from the start, and you'll maximize sales potential and minimize hassles.