What's The Driving Force Behind Buying And Selling In Today's Market?
Posted by Alice Cooper on Tuesday, March 15, 2022 at 2:40 AM
By Alice Cooper / March 15, 2022
Comment
Since the beginning of the pandemic, second home ownership has skyrocketed across the US. We had low-interest rates coupled with the rise in the ability to work remotely, which opened the second home opportunity to a lot of people who wouldn't have entertained the idea otherwise.
Then you have Baby Boomers and Gen Xers who are taking advantage of lifestyle changes. Many are reaching retirement age and they have tremendous equity in their homes. So while it may be easy to dismiss the increased demand for second homes as a temporary response to current conditions, it might just be a glimpse of what's to come for the second-home market in the future.
Next is Migration- migration is nothing new. It's been going on for decades. Residents from the north are flocking to the south. Data from 2010 shows blue states were growing- at best- in the low single digits whereas red states were consistently experiencing double-digit growth. And the pandemic just accelerated the migration, especially in no income tax states like Texas, Tennessee and you guessed it, Florida.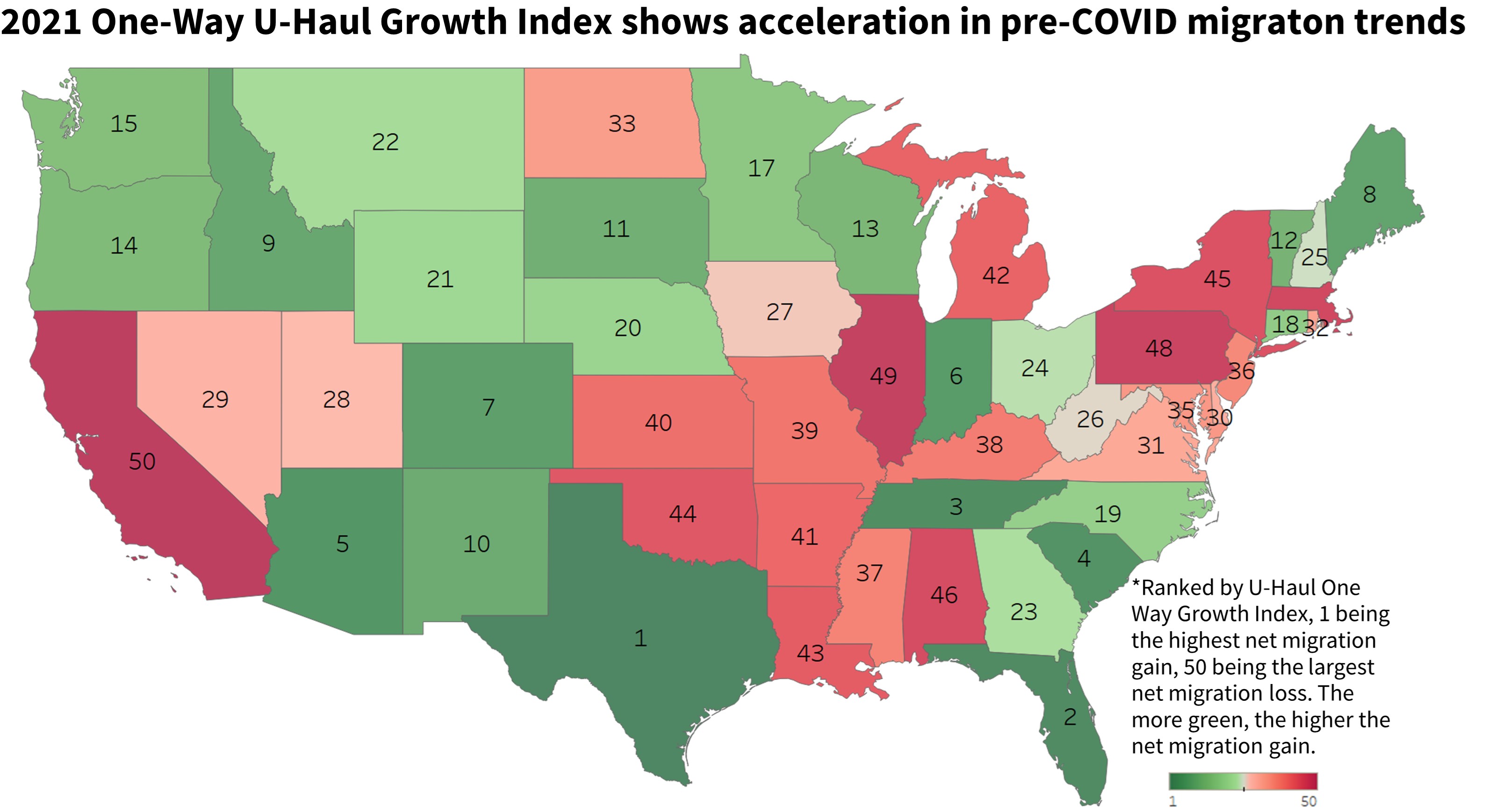 Take a look at this map. Here we see the annual One-Way U-Haul Growth Index, which shows migration data from one-way moves. The greener the state, the higher the migration gain, with 1 being the greatest gain and 50 being the migration loss. The number one city for growth in the entire US was right here in Florida, Kissimme-St-Cloud, but 10 other Florida cities appeared in the top 25 including, yours truly, Daytona Beach.
So why Florida? As I already mentioned, we have no state income tax- that's a huge factor. But we also have a lower cost of living. We're also seeing a lot of businesses move to Florida- you've probably noticed the recent growth here in the Daytona Beach area. And then, of course, there's the beaches, attractions, the warm weather, and the activities. There's just so much to do here and it's practically summer all year long. And we also have COVID-related shifts- where people came from northern states with stricter COVID policies in exchange for Florida's more lenient approach. Sounds to me that the sunshine state has a ton to offer.