What Projects Should You Do To Get Your Home Market-ready? (And which you should skip!)
Posted by Alice Cooper on Monday, March 7, 2022 at 10:30 AM
By Alice Cooper / March 7, 2022
Comment
If you're planning to sell this year, you're probably wondering what you need to do to get your house ready to sell. What kind of projects should you do to get your house ready for today's market and which ones should you skip together?
First, as you probably know, housing inventory in Daytona Beach sits far below what is considered a normal, balanced market. In fact, the National Association of Realtors' latest data indicates inventory just hit an all-time low. The Daytona Beach MLS has LESS than 700 homes for sale on the market, compared to over 3000 in a normal market. Because there's such a limited supply of homes available for sale, you're in a unique position as a seller. When priced correctly along with the right marketing strategy, you'll very likely benefit from multiple offers and a quick sale.
It's also worth noting that overall, homes are selling far closer to the original list price if not over list price more than ever before. Take a look at this graph. Here we see the Median Percent of Original List Price for all properties sold in Volusia County since Dec 2017. Notice that huge jump that starts in 2020? This is when the market started shifting and buyer competition ramped up. Over the summer we saw that median percent of list price skyrocket to 100%! That means that buyers are paying the asking price- if not over- for homes.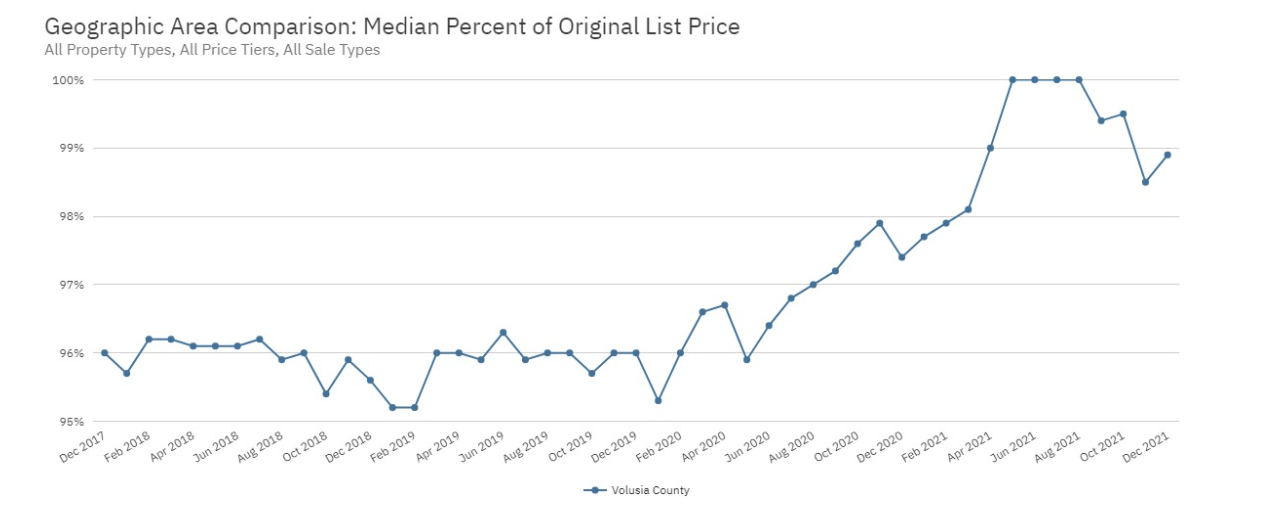 So what does this mean for you as a seller? It means that buyers are scooping homes just up as fast as they're being listed and they're paying the prices sellers are asking, so spending time and money on major renovations may be a waste of time and money. Of course, certain repairs may be important or even necessary, but as a general rule for today's market, focus on getting the space clean and clutter-free and skip the major renovations altogether. Buyers today are more willing to take on home improvement projects themselves, even if it means putting in a little extra work. A recent survey says as many as 2 in 5 buyers would consider purchasing a home that requires renovations. So why not let the future homeowners remodel the bathroom or kitchen to their specific style and save yourself cost and hassle?
Your efforts may be better spent working on small cosmetic updates, like refreshing paint and cleaning carpets on the inside, and pressuring washing and trimming back overgrown hedges on the exterior to make sure the home stands out. Instead of over-investing in upgrades, the buyer may change anyway, it's better to focus on projects that can be done more quickly, so you can get your home on the market sooner.
Over the past year, many people made a significant number of updates to their homes. The most recent State of Home Spending report finds:
"Home improvement spending rose 25% year-over-year to $10,341. Homeowners who invested in home improvement did an average of 3.7 projects, up from 2.7 in 2020, . . ."

With more homeowners taking on more projects in the past 12 months, there's a good chance you've already made updates to your home that could appeal to buyers.
If that's the case, your real estate advisor will find ways to highlight those upgrades in your listing.

The same is true for any projects you invest in moving forward. No matter what, before you renovate, reach out to your agent to see what work needs to be done and how to make it as appealing as possible to future buyers. Every home is different, so a conversation with your agent is mission-critical to make sure you make the right moves when selling this season.