What If I Told You That We're In The Ultimate BUYER'S Market?
Posted by Alice Cooper on Monday, February 28, 2022 at 10:00 AM
By Alice Cooper / February 28, 2022
Comment
So we all know the real estate market is going crazy right now. It's not just here in Volusia County but all across the country, we have a strong demand for housing coupled with a very limited supply, which is causing a frenzy among buyers. There simply aren't enough homes on the market to keep up with today's demand.
In fact, the National Association of Realtors just published a report revealing that inventory just hit an all-time low. To illustrate this point, we can look at the months' supply of existing homes for sale. This tells us the number of months it would take to sell the current amount of inventory. Here we see the months' supply of December going all the way back to 1999. We'll see the peak in the mid-2000s but then a steady decline ever since all the way up to last December, where we see the lowest inventory in over 20 years!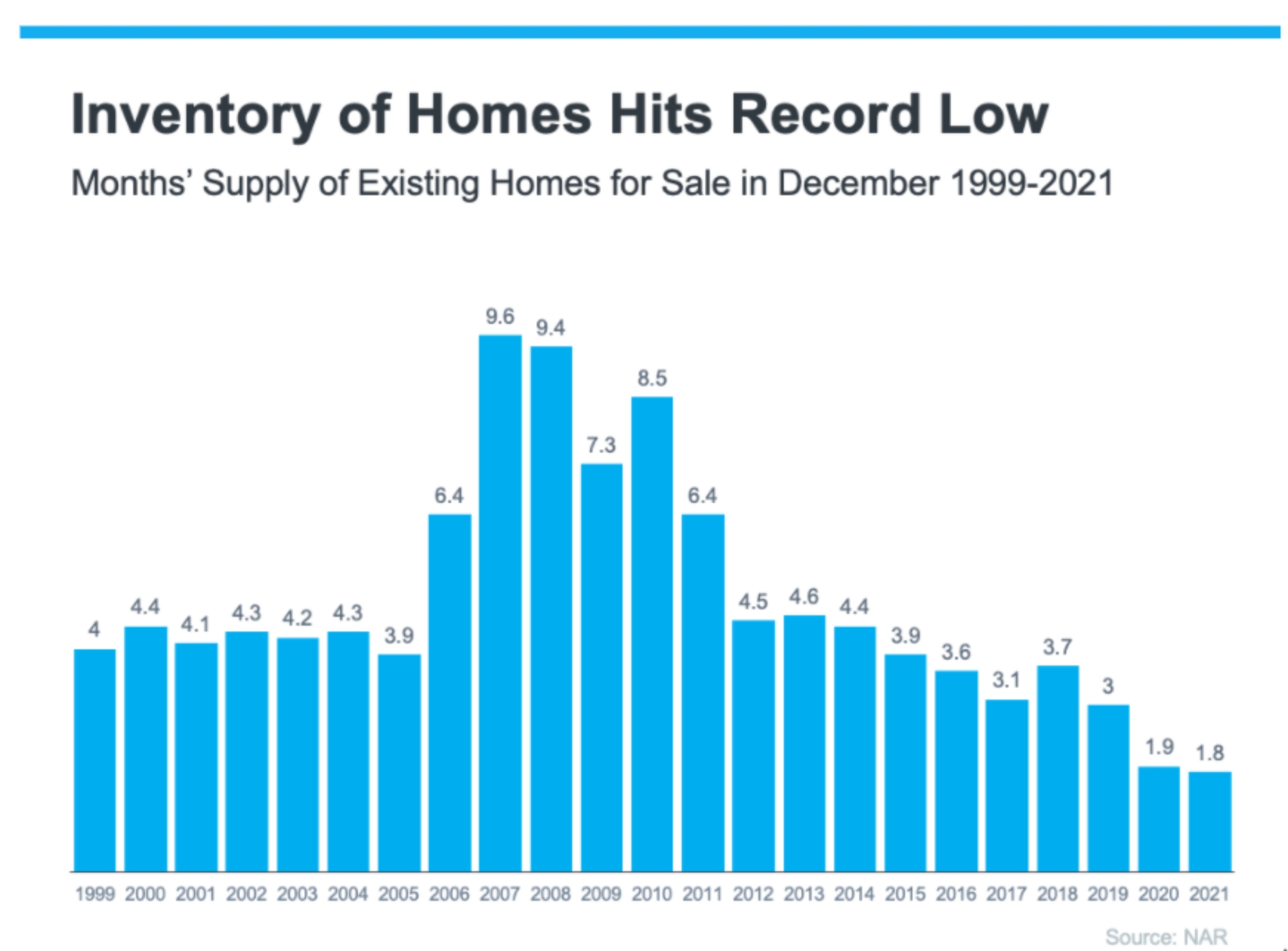 So you might be saying to yourself, "Okay Alice, you just proved to me we're in the strongest SELLER'S market we've seen in over two decades. How on earth is this anything close to a BUYER'S market?" Let me flip the script on you for a moment by asking this question: When has there ever been a time that you could purchase a home and gain 28% appreciation in a single year? Because that's how much some home values rose last year here in the Daytona Beach area.
Sure, buyer competition is high, there's no question about it. You have to play it smart in today's market in order to beat out the competition and land your dream home. But, as I've said many times over the last year, it IS still possible, and the rewards of buying a home in today's market are evident. The average American homeowner saw a gain of $56,000 in equity over the last 12 months and for buyers that locked in at those historically low-interest rates, it sure sounds to me like this sellers' market has been a pretty big win for buyers.
Now, I will caution that we don't expect home values to continue appreciating at such unprecedented rates, and we've already seen interest rates creeping upwards, but housing still continues to be one of the best investments you can make toward your future. And experts agree, a drop in home values isn't coming any time soon. Instead, it's projected that home values will see a deceleration in appreciation to a rate that's more in line with historical norms. In other words, we don't expect to see home values decrease, we just expect to see the value increase at a slower pace than what we've been seeing over the last 12 months.
The bottom line, it's still a great time to buy a home. Both home values and interest rates will continue to rise, so if you're thinking about purchasing, there's no reason to wait. Even though inventory is low, buyers outweigh sellers and technically, yes, we are in a seller's market, there are still so many benefits to buying a home in today's market. Are there challenges? Sure, but you shouldn't let that discourage you from owning your dream. If you're a buyer, find a good agent who will help you navigate today's market so you can take advantage of growing your wealth with home equity. And of course, if you're a seller, there's never been a better time to sell.