What are the top reasons to sell your house?
Posted by Alice Cooper on Tuesday, February 28, 2023 at 10:18:30 AM
By Alice Cooper / February 28, 2023
Comment
It might be surprising to think about it this way, but many of today's homeowners either purchased or refinanced their homes during the pandemic. Mortgage rates were at historic lows and for those who didn't choose to relocate, just about everyone could refinance to those historically low rates.
In 2022, those rates more than doubled causing some homeowners to put their moving plans on hold so they wouldn't lose the low rate on their current house. Today's rates have started coming down slightly from last year's peak, but they're still higher than at the height of the pandemic.
It's interesting to learn that 93% of today's outstanding mortgages have a rate at or below 6%. Ninety-three percent! That's an overwhelming majority of homeowners with rates below what they'd be able to get if they chose to move into today's market. So why would someone choose to walk away from those crazy low-interest rates? In short, there's more to the decision to make a move than mortgage rates alone.
RealTrends explains that many sellers who don't have to move, simply won't be moving. But for those who do plan on making the move, the top reasons are those that have been motivating sellers for decades: downsizing, upsizing and looking for better schools. A recent report from the National Association of Realtors further breaks down why homeowners decided to sell over the past year. Let's take a look.
A recent survey showed the most commonly cited reason for selling was to be closer to loved ones, followed by retirement, the neighborhood becoming less desirable, the need for more space, and a change in household structure, such as divorce, marriage, kids moving out, kids moving back in, or the need to care of an aging relative. And don't forget the increased equity most homeowners have gained in the last couple of years.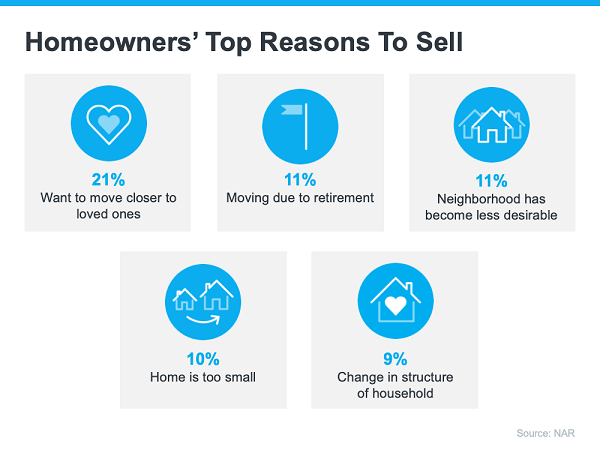 The bottom line, there's a lot to consider when you're deciding whether or not to move. For many, what you want and need in a home may be reason enough to move, and interest rates aren't always the most important factor. Like I always tell clients: You date the rate, but you marry the house. We don't expect rates to ever return to those historic lows, but if they do dip, refinancing is always an option. On the other hand, today's rates may be super attractive in comparison if rates were to rise any higher.