Several Main Street properties sell to investment firm. Is this the end for some of Bike Week's icons?
Posted by Alice Cooper on Tuesday, February 21, 2023 at 9:18:28 AM
By Alice Cooper / February 21, 2023
Comment
Today we're talking about some big changes that recently went down on Main Street. Even if you're not a biker, you probably already know that Main Street is the undeniable hub of Daytona Beach's Bike Week.
More than 500,000 motorcycle enthusiasts from all across the country flock to Bike Week every year to enjoy Florida's spring weather and miles of scenic rides. Vendors set up shops and special events all over Volusia County, but Main Street is every biker's Must-See attraction. So it's no wonder that people are curious about which properties sold, for how much, and what that means for the future of Bike Week.
Bike Week 2023 kicks off March 3rd and goes through March 12th, but 2023 may be the last Bike Week as we know it. That's because several of Main Street's most popular locations were just sold to a large real estate investment firm. CTO Realty Growth LLC just paid $5.5 Million to purchase more than 30 beachside properties, including some of the biggest hot spots of Bike Week's festivities including Dirty Harry's, Bank and Blues, and Full Moon Saloon, just to name a few, as well as several vacant lots that are typically used for vendor tents, outdoor stages, and parking during Bike Week and Biketoberfest. So who is this CTO Realty Growth?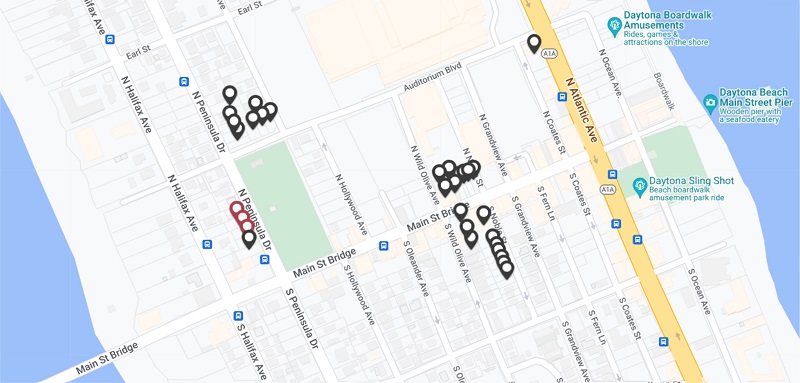 According to their website, "CTO Realty Growth, Inc. is a publicly traded real estate investment trust that owns and operates a portfolio of high-quality, retail-based properties located primarily in higher growth markets in the United States." In other words, they buy and sell a lot of properties all over the country, but CTO is actually based right here in Florida. They were once headquartered in Daytona Beach but have since moved to Winter Park while still maintaining an office off Williamson in Daytona.
CTO Realty Growth is no newcomer to Florida real estate. Before becoming CTO, they were known as Consolidated Tomoka Land Company and owned over 1.8 Million acres of land in Florida. In fact, at one point, they were the largest property owner in Daytona Beach owning virtually all of the lands along LPGA on either side of I-95 including the LPGA golf courses, Latitude Margaritaville, the Daytona Auto Mall, Tanger Outlets, Trader Joes and Amazon Distribution Center.
Interestingly, we had some clues that CTO was up to something in 2019 when they filed paperwork to create DB Main Street LLC, which we're guessing is short for Daytona Beach Main Street. And guess who holds the title to the 31 beachside properties in this recent transaction? You guessed it: DB Main Street LLC. So it's clear that the buyers are no strangers to Florida real estate, but what are they doing with the Main Street properties?
No one knows for sure just yet, but for now, Bike Week will continue just as it has in years past. The sale of the properties included a lease-back clause to the former owner who will continue running the popular Main Street bars and restaurants for at least the next few months. After that, it's anyone's guess. CTO says they're open to possibilities and while the businesses could stay the same, they doubt that will be the case. Interestingly, CTO owns both Landshark and Crabby's Oceanside, so a lot of Main Street business owners are hopeful that the area will get a shot in the arm, so to speak.
The sale also comes at a time when Daytona Beach Mayor, Derrick Henry, along with city commissioners are proposing some changes to Bike Week's businesses. Currently, Main Street and surrounding areas are buzzing with activity during Bike Week and Biketoberfest but are complete ghost towns between events. The Mayor is hoping to change that with new requirements for vendors, parking lot standards, and expansion of the master event map. The ultimate goal is to revitalize the area and keep it thriving year-round. Perhaps this sale will play a part in the Mayor's plan.
It will be interesting to see what CTO does with these popular locations once the leasebacks expire and the former owners step away. It's something we'll be following closely, so stay tuned.