Is The Current Housing Market The New Normal And Are Homebuyers Adapting?
Posted by Alice Cooper on Tuesday, August 22, 2023 at 11:50:11 AM
By Alice Cooper / August 22, 2023
Comment
Today we're talking about today's housing market and the overall temperature of today's buyers and sellers. Gone are the days of the sub-3% interest rates and home prices continue to rise. So is this having a negative impact on the overall market? The short answer is not really.
One positive trend we're seeing is that homebuyers are adapting to today's mortgage rates and starting to accept them as the new normal. Of course, we've all heard about the double-digit mortgage rates of the 1980's- some interest rates were as high as 18%! And people still bought real estate back in the 80s. But that was a long time ago, and when rates dipped as low as 2.6% just a couple of years ago, it's hard to swallow rates more than doubling in just a few short months.
To better understand what's been happening with mortgage rates lately, let's take a look at a graph that shows the trend for the 30-year fixed mortgage rate from Freddie Mac since October '22. As you can see, rates have been between 6% and 7% pretty consistently for the past nine months.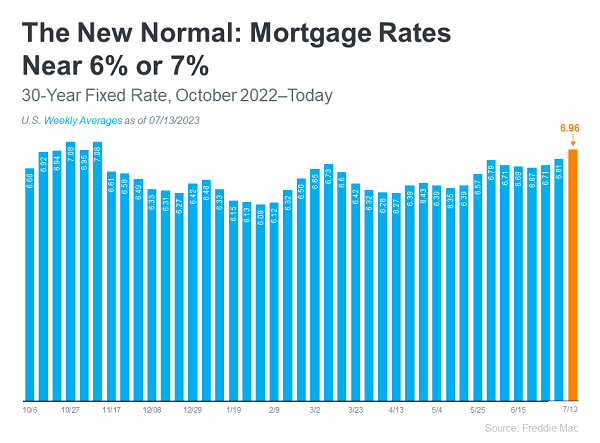 And while the rising interest rate did slow the housing market, that was exactly the intended result. It hasn't stopped home sales and stable rates mean consistent home sales. According to Lawrence Yun, Chief Economist at the National Association of Realtors, mortgage rates play a significant role in buyer demand and therefore, home sales. Yun highlights the positive impact of stable rates by saying, "Mortgage rates heavily influence the direction of home sales. Relatively steady rates have led to several consecutive months of consistent home sales."
If you're thinking about selling, hearing that home sales are consistent right now is good news. It means buyers are out there and actively purchasing homes, which wasn't the case just a few months ago. When mortgage rates jumped from 3% to 7%, a lot of potential buyers had a bit of sticker shock and put their plans to purchase on hold. But, now that a little time has passed, that initial shock has worn off.
Buyers have grown more accustomed to the current mortgage rates and have accepted that the days of 3% rates are behind us. In fact, a recent survey by Freddie Mac reveals 18% of respondents say they're likely to buy a home in the next six months. That means nearly one out of every five people surveyed plan to buy in the near future. And that goes to show buyers are planning to continue being active in the months ahead.
Of course, mortgage rates aren't the only thing affecting buyer demand. People will always have reasons to move regardless of where mortgage rates. Whether it's job relocation, changing family dynamics, or a number of other personal motivations, mortgage rates aren't the end-all-be-all.
Bottom line, as a seller, you can feel confident there is a market for your house today. Buyers are getting used to the new normal as far as mortgage rates are concerned and steady rates are contributing to strong buyer demand and consistent home sales. And that's a plus for our housing market.