Is the 2023 housing market headed for a repeat of 2008?
Posted by Alice Cooper on Monday, January 9, 2023 at 10:28:48 AM
By Alice Cooper / January 9, 2023
Comment
You may be hearing people talk about a housing market crash on the horizon. You may have even seen a recent study by Lending Tree that found that 41% of Americans believe the housing market will crash within the next twelve months. Two out of every five people believe the market is going to crash. And the majority believe it's going to be as bad or worse than '08.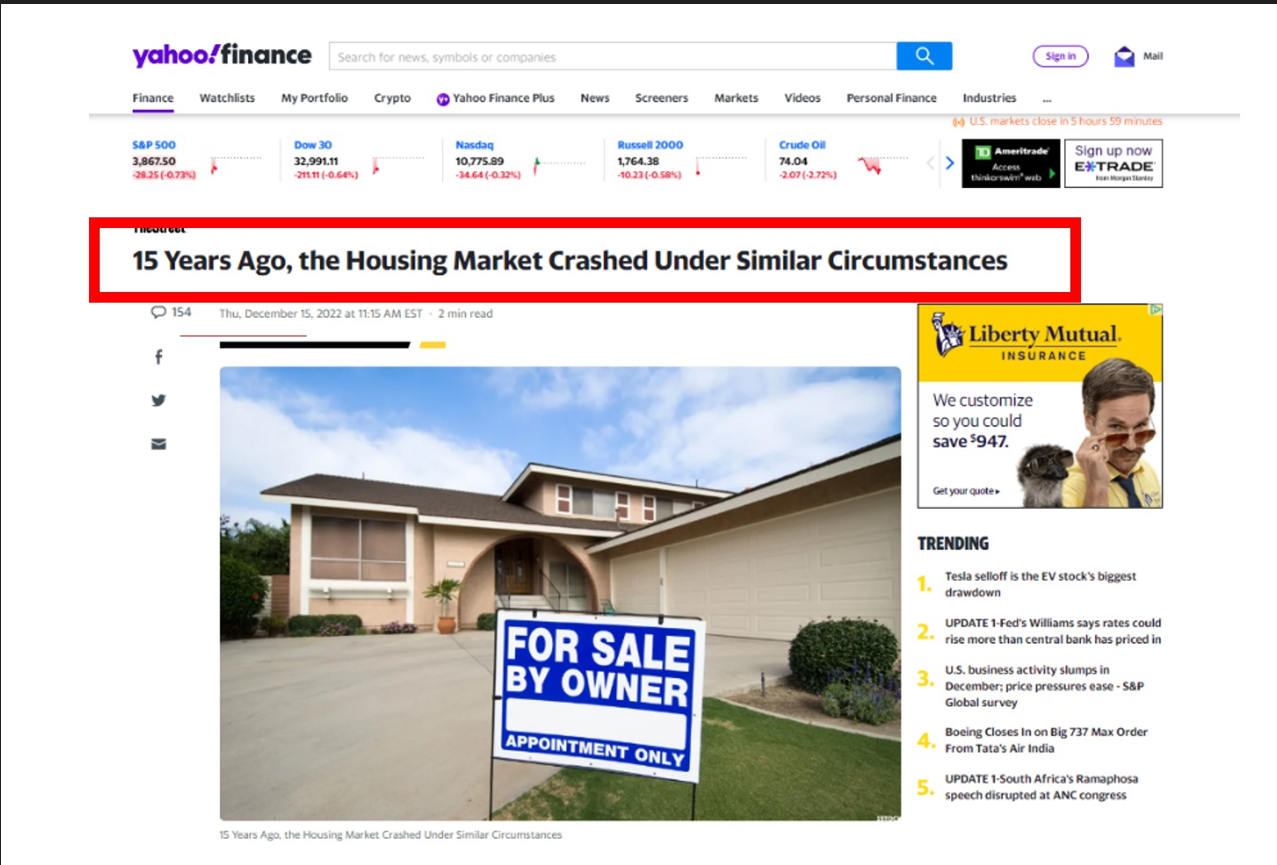 So where do people get this information? We're definitely seeing an economic slowdown and some people may automatically assume a housing market crash is inevitable. But a lot of people are being misled by inaccurate news articles. Take a look at this article from a couple of weeks ago; the headline reads "15 Years Ago the Housing Market Crashed Under Similar Circumstances." Sure sounds like we're heading for a crash, right? BUT what's really going on in the market and how is today's housing market actually nothing like the housing market 15 years ago?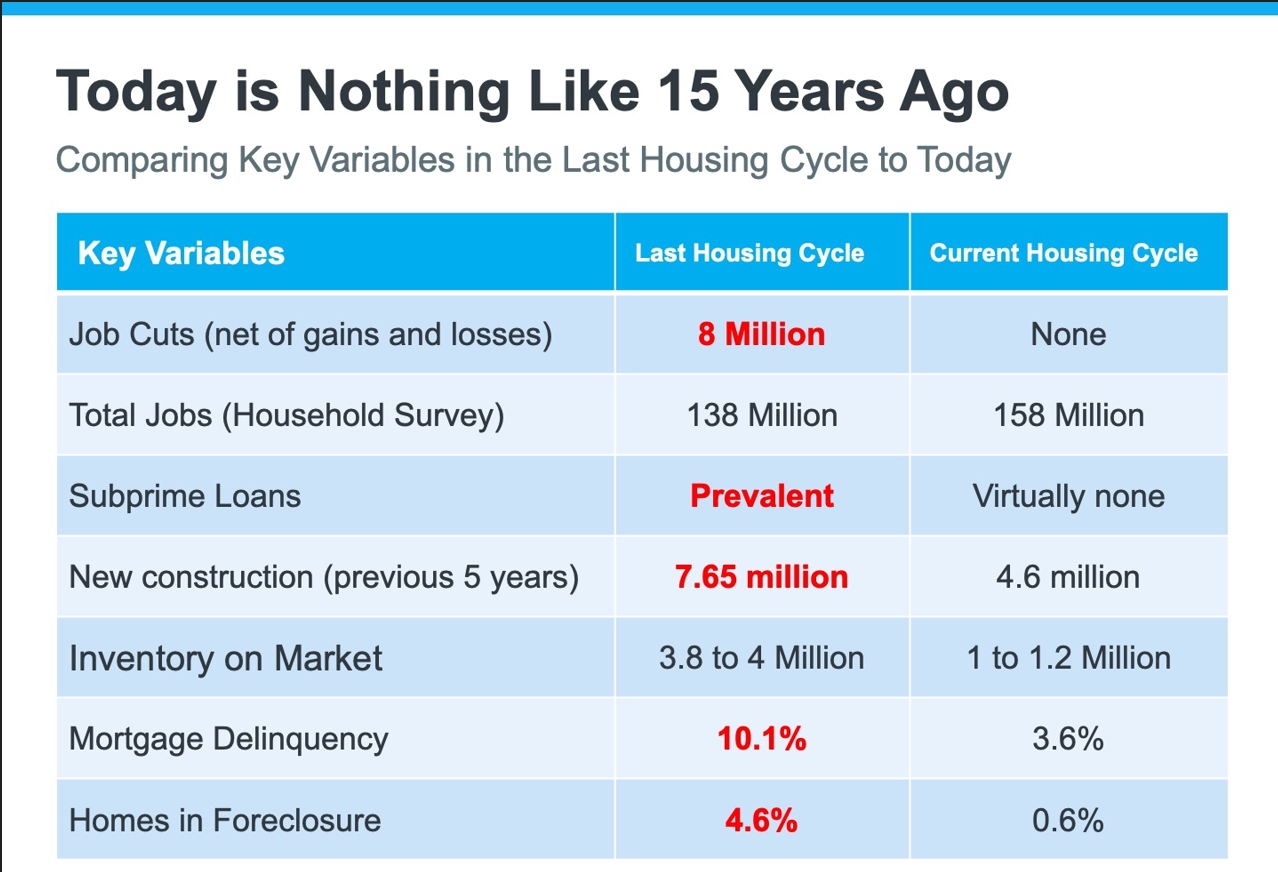 Take a look at the side-by-side comparison of 2008 and our current market. First, Job Cuts were 8 million in the last cycle, where there are virtually none now. The economy is slowing, but if anything, the employment market has been the anomaly of this economic slowdown. Total jobs were 138 million in '08 and 158 million today. Subprime loans were everywhere 15 years ago, today, they're virtually non-existent.
New construction during that time period was over 7.5 million. Now, we have only 4.5 million in new construction. That means our building deficit is in the millions. Inventory, which is the biggest gap, was right at 4 million homes on the market back then, we see just over a million homes on the market nationwide right now. And then we have mortgage delinquencies and foreclosures with huge differences from today versus 15 years ago.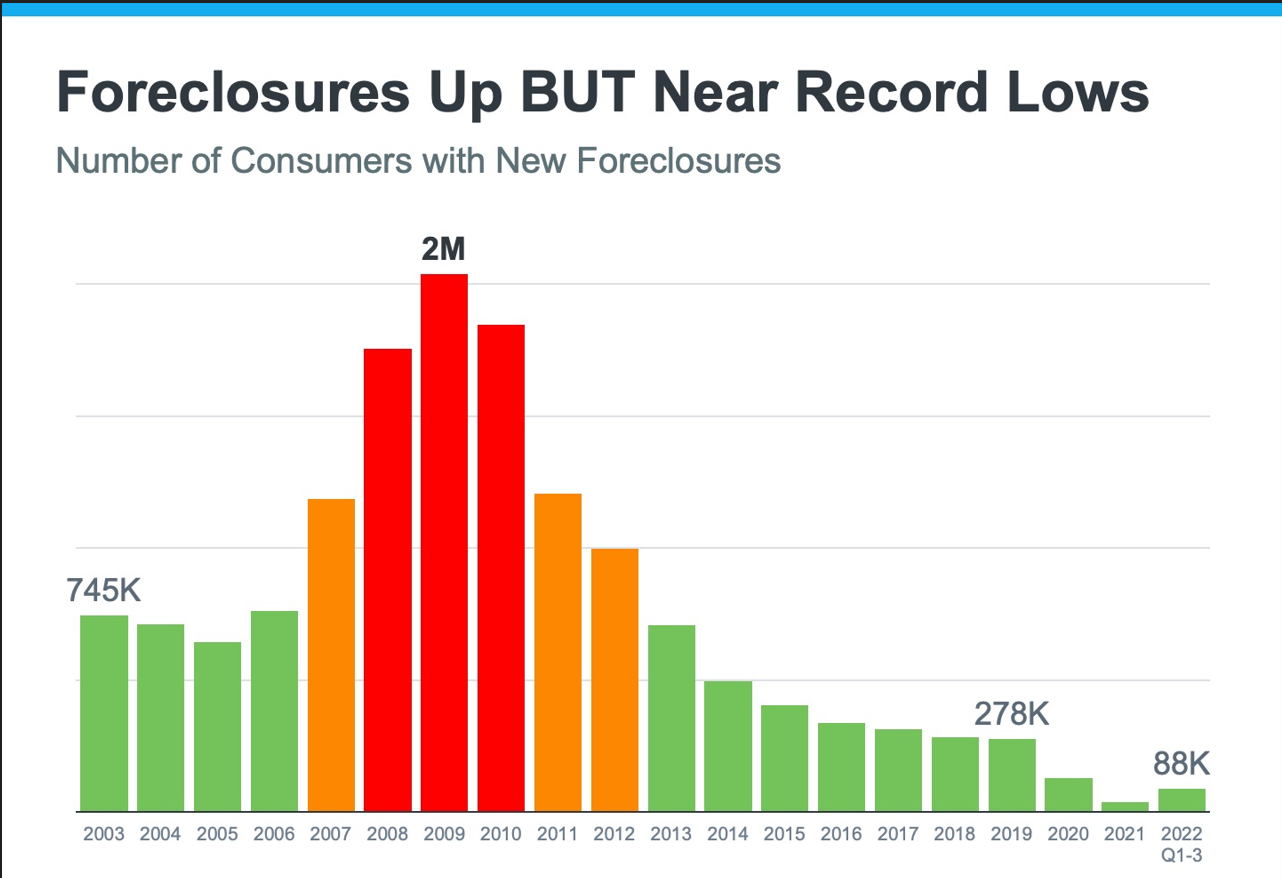 So let's talk about foreclosures for just a minute because they're another really great illustration of the "then vs now" comparison. So here we see foreclosures are up slightly in the last year, there's no doubt about that, but they're still near record lows. If you look through the third quarter of this year, there were 88,000 foreclosures in the US. Compare that to 2019, which was the last "normal year" before COVID and the moratorium on foreclosures, and there were 278,000. But then if you look back to 2009, you see foreclosures peaking at 2 Million.
The truth is people have so much equity in their homes today that they can simply go out and sell their homes, pay off the mortgage, and still put a little bit of money in their pocket, and they're able to get past the crisis they're facing. Back in 2008, the option to sell simply wasn't there for millions of people. The question wasn't going to be, "are you going to lose money?" it was, "how much are you going to lose?" The question today may be, you might not make as much money as you would have back in the spring, but no doubt strong appreciation over the last couple of years is benefiting sellers all over the place.
So remember, when you hear people talking about a housing market crash and how we're going to see a repeat of 2008, today's market is not even a little bit similar to 15 years ago. Also keep in mind that while 2020 and 2021 will go down in history as two of the most spectacular years in real estate, they were also anomalies that aren't the benchmark of a normal market. Instead, we should look back to pre-pandemic years, when the market was still very healthy, to get a broader picture of what's actually going on in the real estate market. Be sure to tune in next week, where we'll be talking about the latest news in the Daytona Beach Housing Market.