How To Approach Rising Mortgage Rates As A Buyer?
Posted by Alice Cooper on Monday, April 25, 2022 at 12:00 PM
By Alice Cooper / April 25, 2022
Comment
If you've been following the news lately, then you probably have seen mortgage rates are on the rise. For the seventh consecutive week, mortgage rates have increased; the average 30-year fixed mortgage rate from Freddie Mac is now up to 5%.
Springtime is typically the busiest homebuying season, but the upswing in rates has caused some volatility in demand. And while it continues to be a seller's market, buyers who remain interested in purchasing a home may find that competition has somewhat softened.
So all this news may have you questioning the timing of your home search, and you may be tempted to put your plans on hold in hopes that rates will fall and home prices will drop. But the truth is, waiting will only cost you more. Home values are forecast to continue appreciating and mortgage rates are expected to continue rising in the months ahead.
Mortgage rates play a significant role in the home buying equation. It's pretty widely understood that as rates go up, the amount of your monthly mortgage payment goes up as well. Mortgage rates directly impact how much you can comfortably afford, so it's important to know what your mortgage rate will be. Even a quarter-point increase can have a big impact on your monthly payment.
Take a look at this chart. Here we see an example of monthly mortgage payments at various interest rates. The examples shown are the monthly principal and interest payments only with a 20% downpayment. But keep in mind that these numbers don't include taxes, insurance, PMI or HOA fees, but they're a good representation of how much interest rates impact monthly payments.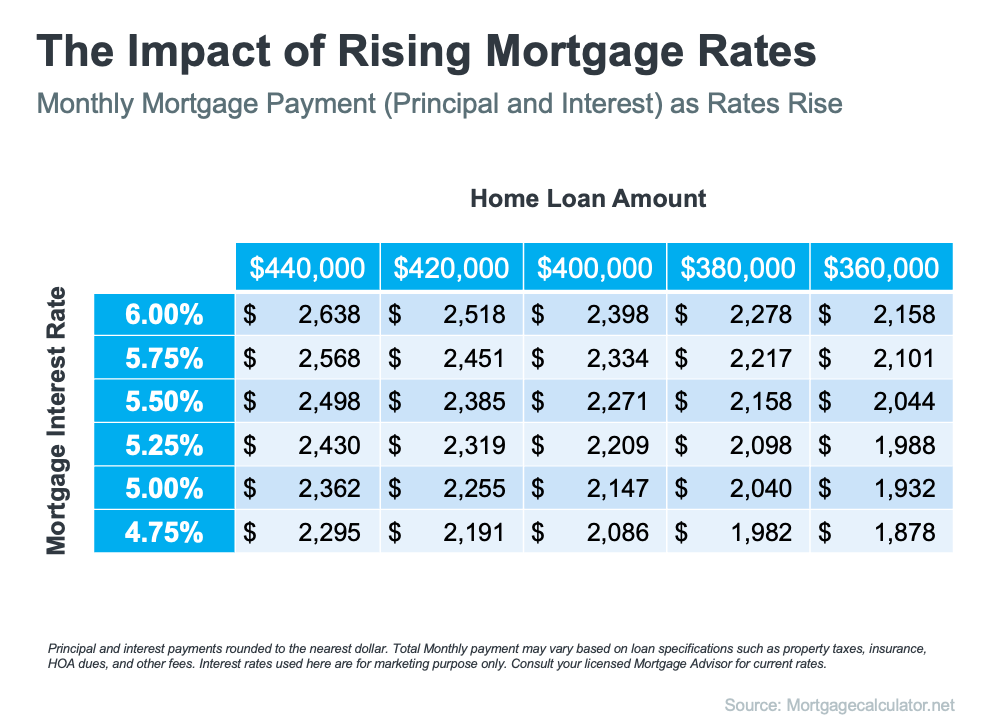 Now more than ever an important first step to buying a home is talking to a lender so you know exactly how much today's rates will impact you. There are a number of things that impact your monthly payments- not just interest rates- and your lender will be able to walk you through the options. And there are some options that may save you money on your monthly mortgage payments.
For example, with certain loan programs, you can eliminate private mortgage insurance by putting enough money down. This can save you a couple of hundred dollars a month. There also may be an option to buy down your rate or pay discount points, which can lower your interest rate. But these options might not make sense for your specific situation, so again, it's best to meet with a mortgage lender. We always recommend finding a local mortgage broker who will have access to a wide variety of loan options and who knows our Daytona Beach market.
Bottom line, with mortgage rates on the rise, you'll continue to see your purchasing power impacted. If you have plans to buy, today's rates should motivate you to purchase now before rates increase more. And of course, the first step is to talk to a mortgage lender so you can know exactly how much you can afford with today's rates and can have your pre-approval in hand. If you need help finding a mortgage broker, we'd be happy to refer you to one.