How Much Are Oceanfront Homes in Daytona Beach?
Posted by Alice Cooper on Tuesday, October 24, 2023 at 2:00:27 PM
By Alice Cooper / October 24, 2023
Comment
The allure of an oceanfront home has long captivated people's imagination. The idea of waking up to the soothing sounds of the ocean evokes a sense of tranquility and connection to the natural world. And it doesn't hurt that the home itself is usually pretty swanky. So how much will an oceanfront home in the Daytona Beach area set you back in today's market? Let's take a look at some recent sales.
Spanning nearly 50 miles of Florida's east coastline, Volusia County's white sand beaches are a popular destination for beach lovers and tourists alike, so it's no surprise that some visitors fall in love with the Daytona Beach area and wonder, "How much does an oceanfront home in Volusia county cost?" The answer is it depends largely on the home, its condition, whether it's a house or condo, where it's located, its view, whether it's a true oceanfront home, and to some degree whether or not it's on the No Drive section of the beach.
What do I mean by whether it's on a true oceanfront home? Most oceanfront homes in Volusia County are right on the sand, but there are areas in North Ormond Beach and South New Smyrna Beach where a road separates the home and the ocean. Technically, they're considered oceanfront homes, but you have to cross some asphalt before your feet hit the sand. "Oceanfront condos" in North Ormond Beach are selling for between $200,000 to $400,000 for a 2-bedroom unit.
But if you don't want to see A1A in your view between your balcony and the ocean, you'll have to head further south, where oceanfront condos run anywhere from $300,000 to two million plus. I know what you're thinking- that's a pretty big difference in price- but there's also a big difference from one building to the next in terms of its age, the amenities, the view, the condo fees, whether or not they allow short term rentals and of course the unit itself.
So what about oceanfront houses? Well, we've only had 10 oceanfront homes sell so far this year and they also range in price, but you're not going to find anything on the ocean for under $1 million. The "cheapest," and I use that term loosely, oceanfront single family sold this year went for just over $1.1m . It was a 3 bedroom 2 bath home in Wilbur by the Sea, which, unfortunately, was ravished by Hurricane Nicole last fall. The home was deemed safe by county officials, but erosion work is ongoing in that area.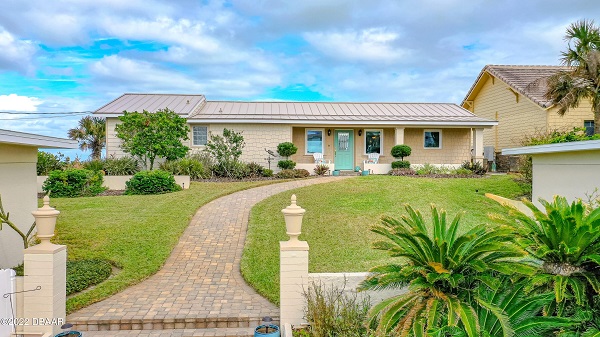 So what was the most expensive oceanfront home to sell so far this year? Drum roll please… it was this stunning 4 bedroom 5 bath home in Ormond Beach that is every bit as luxurious as its sales price of $5.5 million! The 3-story home was built in '21 and is as incredible inside and out as you would expect for that price tag: 22-foot ceilings, 4 car garage, top-of-the-line appliances, infinity pool, and deluxe quartz countertops… no detail was spared with this beauty.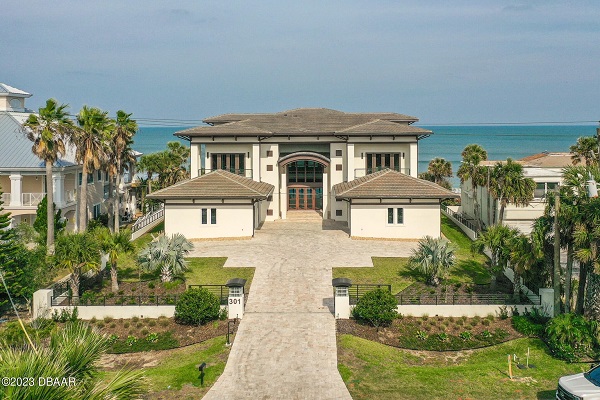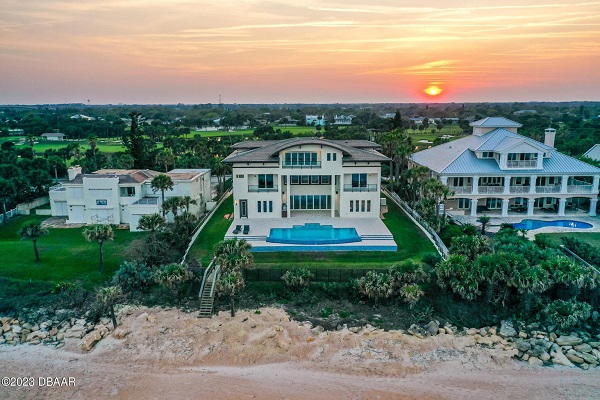 If you're shopping for oceanfront homes, or simply dreaming of "maybe someday," Volusia County offers everything from the budget-friendly to extravagant luxury… and everything in between… and living the ocean life in the Sunshine State may be more attainable than you think!