How Do Fluctuating Interest Rates Impact Payments and could a 40 Year Mortgage be Right For You?
Posted by Alice Cooper on Tuesday, April 18, 2023 at 11:01:56 AM
By Alice Cooper / April 18, 2023
Comment
Today we're talking about interest rates and how they impact your purchasing power. Interest rates have a significant impact on a borrower when it comes to buying a house. It's a pretty well-known fact that higher interest rates translate to higher monthly mortgage payments, which may limit the amount of money a buyer can borrow and therefore how much house they can afford. But have you ever thought about how even a minor shift in rates can impact your purchasing power?
Throughout the past year, the 30-year fixed mortgage rate has fluctuated between 6% to 7%. If you've been keeping up with rates at all, then you've noticed rates bouncing around and changing almost daily. If you're thinking about buying a house, it's important to not only know the current rate but to understand how even a minor shift in mortgage rates can impact your ability to purchase a home.
Let's take a look at the relationship between mortgage rates and a typical monthly mortgage payment. Here we see the principal and interest payment on a $325,000 loan amount at 6%, 6.5%, and 7%. Notice that even a half-a percent increase in interest increases the payment by over $100 a month and over $200 a month with full percent. So you can see how interest rates can have a big impact on a buyer's purchasing power.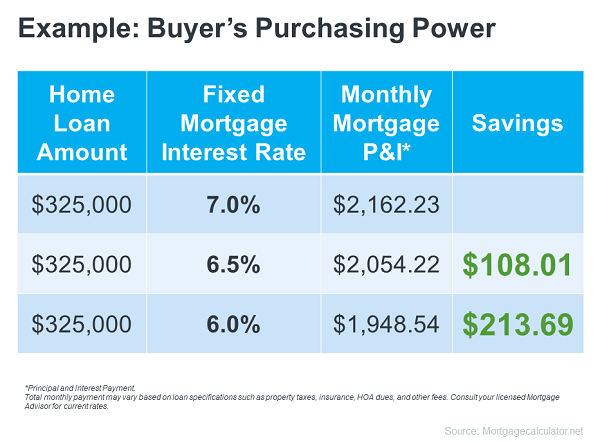 For many Americans, rising interest rates are taking their toll and some have put off their plans to purchase. In response to rising rates, the Federal Housing Administration just gave the green light for a new 40-year fixed-rate loan option. This means the monthly payments are spread over 40 years, instead of 15 or 30, making the monthly payment lower, and at a fixed rate that won't fluctuate. The idea is to combat rising interest rates by helping homebuyers purchase a home with a monthly payment they can afford. The 40-year loan option will become available starting in May.
Supporters of the new 40-year loan option say if it helps more people get into a new home, then it's a good thing. The downside, of course, is if buyers stay in their homes for a long period of time, they'll end up paying thousands of dollars more interest in the long run. So it's important to weigh the pros and cons before deciding if a 40-year loan might be right for you.
Bottom line, it's important to know your options, understand how mortgage rates impact your purchasing power, and plan your home-buying budget around today's volatility. Talking to a lender is a critical first step to buying a home so you can get advice tailored to your specific situation and goals and get that pre-approval in hand. We're happy to recommend a knowledgeable lender if you don't already have one.