Have you ever thought about a multigenerational home?
Posted by Alice Cooper on Monday, March 27, 2023 at 10:55:05 AM
By Alice Cooper / March 27, 2023
Comment
Today we're discussing multigenerational homes and whether it may be the right option for you. There's no question that the pandemic changed us in a number of ways. One major question that many of us asked ourselves is "What is the meaning of home?" Our homes became our home offices, our classrooms, and our gyms and a lot of us reexamined our needs in a home. For many, it meant selling a small home in the city and moving to a larger home with more space, a larger backyard, and more dedicated spaces. But for others, it meant creating a multigenerational household.
Since the pandemic, we've seen a rise in multigenerational households. Jessica Lautz, with the National Association of Realtors, explains, "multi-generational buying may be a home where families live in the same home with elderly parents, children who have boomeranged back home, or other extended family members. While this is not a new concept of living, it is one which has gained recent popularity." There are also data from the Pew Research Center that suggests multigenerational living has made a comeback in recent years, particularly after the 2008 financial crisis and during the pandemic.
If you've considered buying a multigenerational home, you're not alone. Depending on your homeownership journey, there are various reasons a multigenerational home might be for you. Let's take a look at a recent survey from NAR that outlines the top 4 reasons people purchased a multigenerational home: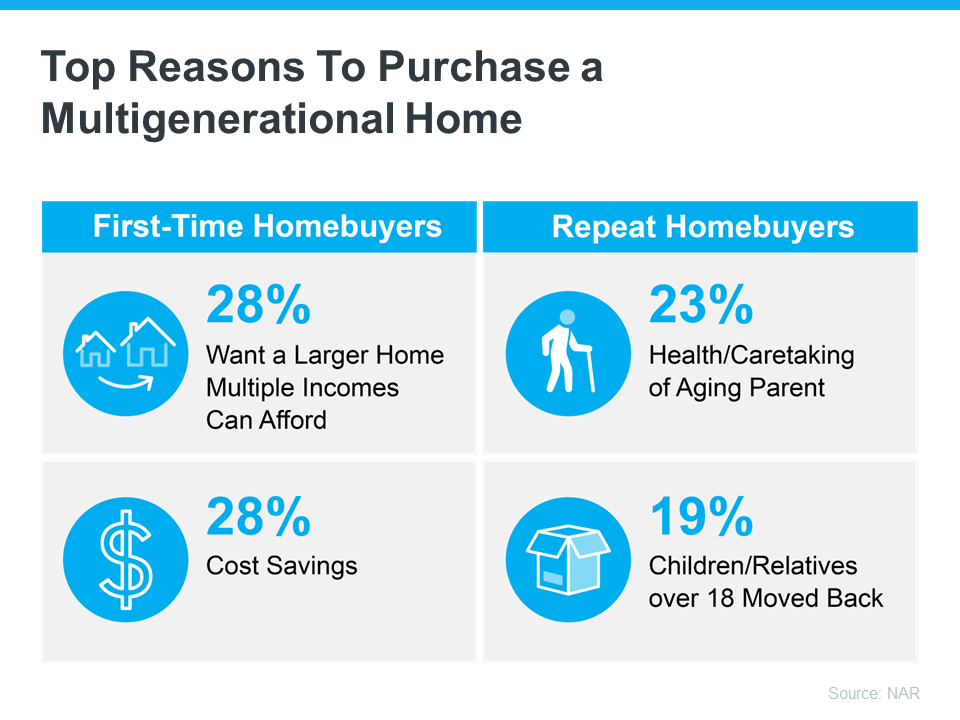 For first-time homebuyers, 28% may want a larger home that they can only afford with multiple incomes, and 28% cited cost savings as their main motivator. For repeat homebuyers, 23% of respondents cited an aging relative and 19% said they chose a multigenerational family because children or other relatives over 18 were moving back in.
Regardless of whether your motives are financially focused or based on the need to care for a loved one, a multigenerational home has some very distinct advantages. For many, it can make homeownership more affordable and it can help you better support a family member in need.
As Lautz explains: "Multi-generational home buying is a way for families to care for one another, support one another, and often buy a home that may have been previously out of reach. . . . The trend of multigenerational buying appears to be firmly established and one that could expand in the future."
And here in Daytona Beach, some local builders have taken notice of the need for multigenerational housing. Lennar Homes, which currently has a number of new communities popping up in Volusia County, has created what they call the Next Gen model of home. It's one of their standard models designed for multigenerational living. It has two separate living spaces under one roof with a smaller, one-bedroom apartment attached to the main 3-bedroom home that has its own private entrance. It's perfect for buyers who are shopping for an in-law suite or needs multigenerational living.
And Lennar Homes have some pretty great move-in incentives right now in what they're calling their Super Sales Event. They have communities in Edgewater, LPGA, and Deland with brand-new homes starting in the $300's. Plus they're offering up to $15,000 in buyer concessions with financing as low as 4.99%! If you're in the market for a multi-generational home, Lennar Homes' Next Gen model is definitely worth considering. So, reach out to us for more details.
Whatever the motivator, multigenerational housing is becoming more and more popular and builders are responding to the needs of buyers. If you haven't considered this as an option, and it may fit your lifestyle and needs, it's definitely worth looking into.