Have home values hit bottom?
Posted by Alice Cooper on Monday, February 6, 2023 at 12:05:48 PM
By Alice Cooper / February 6, 2023
Comment
Today, we're talking about what the future holds for home values in our area. Will values drop, and if so, by how much? If you're a homeowner, you may be wondering if the value of your home is going to plummet, and if you're a buyer, you may be questioning whether now is the right time to buy or if you should wait for values to come down.
We've talked frequently about news headlines and how they suggest home values are tumbling or that we're heading for a crash. It's everywhere you look, but like I keep saying, don't believe everything you read. These articles often omit important facts, skew numbers to sound more alarming than they are, or in some cases, have these terrifying headlines about a crash on the horizon with an article that has no factual information to back it up. It's no wonder people are concerned, and one of the main questions on everyone's mind seems to be "how much will home prices decline?"
What people don't realize is that expert forecasters aren't calling for a free fall in home values. In fact, the latest data suggests that nationally, the most significant portion of month-over-month depreciation may already be behind us. So instead of how far will prices drop, the question becomes, have we hit the bottom? Let's take a look at the latest data.
Here we see the most recent reports from Case-Shiller, the Federal Housing Finance Agency, Black Knight, and CoreLogic. The chart shows, on a national scale, how home values have changed month-over-month since January 2022. And this data is always a couple of months behind, so we're still waiting on November and December numbers.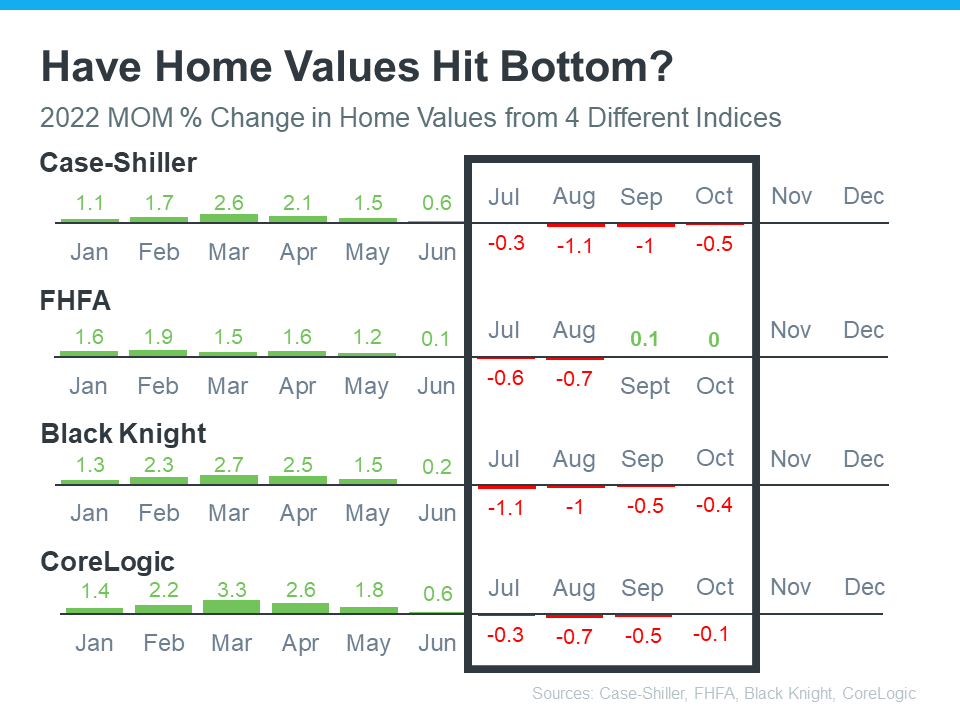 Let's focus on the numbers in red. This shows us the change in home values on a national level over the last four months that have been published. And if we isolate just these last four months, we see that home price depreciation peaked in August. And while that doesn't guarantee home price deprecation on a national level has hit bottom, it confirms that prices aren't in a free fall and could be an indicator that the worst is already behind us.
But, what's interesting, is this hasn't been the case here in Florida at all. While other markets across the country have slowed, consumers here in the Sunshine State are still buying and selling, keeping prices elevated. Home values in our state rose around 12% last year, outpacing every other state in the nation. It's hard to predict exactly where home values will go from here, but experts agree, Florida housing markets will very likely continue to fare better than other markets in the country. This is partially due to inventory shortages and in part due to the rate of migration into our state.
Bottom line, it appears home values may have bottomed out nationally, indicating the worst is behind us. And here in Florida, values remain strong. If you're thinking about buying, you probably don't want to wait around for home values to come down because we don't expect to see that happen any time soon. If you're thinking about selling, now may be a good time.