Are We Headed For A Housing Recession?
Posted by Alice Cooper on Monday, July 31, 2023 at 11:12:01 AM
By Alice Cooper / July 31, 2023
Comment
Today we're talking about the local housing market and what we can expect to see in the months to come. The buzz continues, over the last couple of years, that we're headed for a housing crash. But that's not likely to happen. Let's take a look at some of the reasons why.
Although home sales in Volusia County were down 3.6% year over year, the market remains strong. The average sales price rose 3% to $463,000 and 33% of homes had multiple offers. So what do all these numbers mean? It means that inventory still remains at historic lows and there are simply too many buyers and too few homes. Even with elevated mortgage rates, prices continue to rise as buyers compete for the limited properties available.
Lawrence Yun, Chief Economist for the National Association of Realtors recently said, "If some consumers, perhaps mistakenly, heard about a housing recession, they're finding out is that it is a tough market to be a buyer in the current environment. There are simply not enough homes for sale, and the market can easily absorb a doubling of inventory." The most recent data from June shows that single-family inventory was the lowest it's been since 1982.
One reason for the limited supply of homes is the fact that more than 85% of current mortgage holders took advantage of the historically low-interest rates and are currently locked into sub-5% rates. Today's rates are hovering just below 7%, so people are reluctant to sell their homes and buy another home with today's higher interest rates. Even if a homeowner wanted to make a lateral move, they'd end up paying $1000 more a month in just interest, so it makes sense that a lot of sellers are staying put.
On a positive note, new home construction is ramping up nationwide. Let's take a look at some data that does a really good job illustrating how new construction has impacted inventory over the past two decades. Here we see new-home completions dated back to 2000. The black line shows the long-term average for the number of finished housing units.
You'll see on the left side of the graph the orange line with the years leading up to the housing crash, where builders exceeded the average. That led to an oversupply of homes and was one of the contributing factors to the housing crash in 2008. After the crash, the level of new construction fell drastically, which is shown with the red line, and that underbuilding left the housing market in a multi-year inventory deficit, which is one of the reasons inventory is so low today.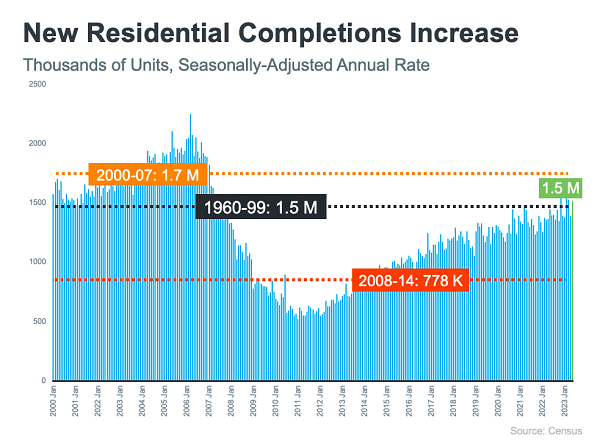 But the good news is that according to the latest data from the Census, new builds are picking up and are close to the long-term average, which means we'll start seeing some relief in inventory in the years to come.