5 Tips to Making an Offer
Posted by Alice Cooper on Monday, April 3, 2023 at 12:36:19 PM
By Alice Cooper / April 3, 2023
Comment
Are you considering purchasing a home this spring? While the current housing market is more balanced than during the height of the pandemic, it still favors sellers. That's why it's essential to keep these 5 tips in mind to ensure you make your best offer.
First, consult with a real estate professional. You want to find an agent who can help you achieve your goals. As Bankrate suggests, ". . . select the best real estate agent for your needs. They will be a critical part of your home buying process." Your agent should be knowledgeable about the local market and understand what has worked for other buyers in your region and what sellers may look for in an offer. Appealing to a seller's needs can help your offer stand out.
Tip Number 2: Determine Your Budget. Knowing your budget is especially vital right now. The best approach to understanding your financial situation is to work with a lender to obtain pre-approval for a loan. This will make you feel more financially confident and demonstrate to sellers that you are serious, giving you a competitive advantage.
Tip Number 3: Carefully Consider Everything Before Making an Offer. Today's market is not moving at the same pace as during the pandemic. Giving you some breathing room and maybe more time to think before making an offer. According to Danielle Hale, Chief Economist at realtor.com, "In general, you likely have more time to make an offer, although that's certainly not a guarantee. If you're on the fence about a home or its asking price doesn't quite fit your budget, you might want to keep an eye on it, and if it doesn't sell right away, you may have some room to negotiate with the seller." While it is still important to stay informed about the market and be ready to act quickly, there may be more flexibility today. Rely on the advice of your agent as you explore options in your market.
Tip Number 4: Don't make the mistake of thinking cash is king no matter what. Indeed, most sellers will highly consider a cash offer over an offer with financing, but that doesn't necessarily mean you can come in with a lowball cash offer and beat out the competition. There's more to a strong offer than having cash in hand, and it's also important to keep in mind that your cash offer might not be the only cash offer on the table. Take a look at these recent statistics:
Here we see the nationwide statistics for cash sales. Nationally, about 29% of all offers are cash, but here in Central Florida, that number is considerably higher. We land in the top 10 areas across the country for cash sales. With these odds, it's important to keep in mind that even with a cash offer, you may be competing against another cash offer, so it's always best to put your best foot forward.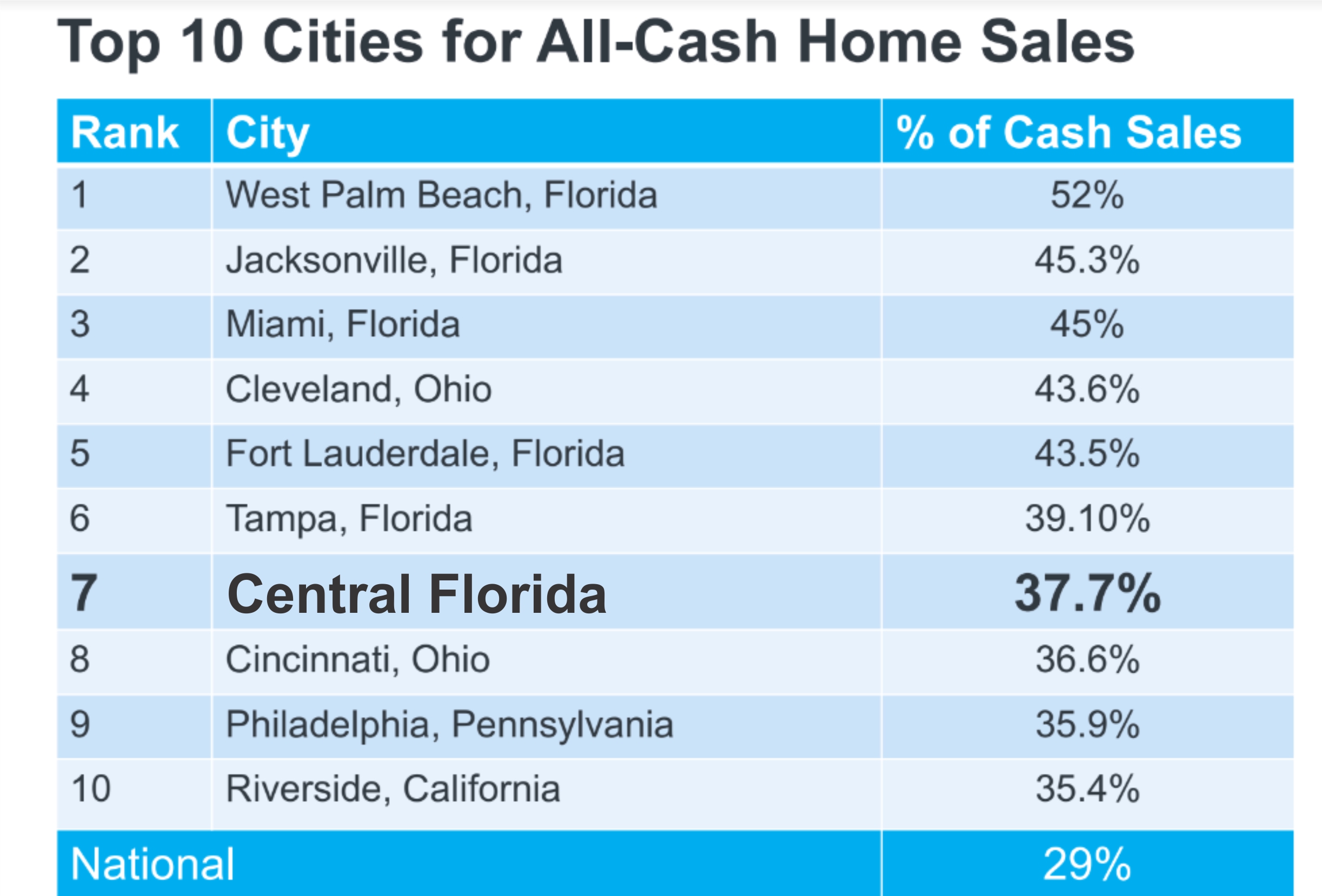 Tip number 5: Collaborate with Your Real Estate Agent to Negotiate. During the pandemic, some buyers submitted winning offers on homes by foregoing home inspections or not requesting concessions from the seller. Fortunately, today's market is different, and you may have more negotiating power than before. When crafting an offer, your trusted real estate advisor will assist you in determining which levers to pull.
Bottom line, if you're purchasing a home this spring, it's important to have the right team in place and know what kind of market you're entering.